The set includes:
Designed in Spain
PAPR DACAiR complete with P R SL filter and pre-filter
Padded comfort belt
Battery
Charger
DC-3 R DACAiR welding helmet with face seal, 2 side-airducts and pair of safety helmet adapters
Rockman E4R safety helmet
Auto Darkening Filter (ADF)
Y-shape air hose with flame retardant treated fabric protective cover
Airflow meter
Carrying / storage bag
Optical filter (welding glass) or Auto Darkening Filter (ADF) to be ordered separately*
Ventilation unit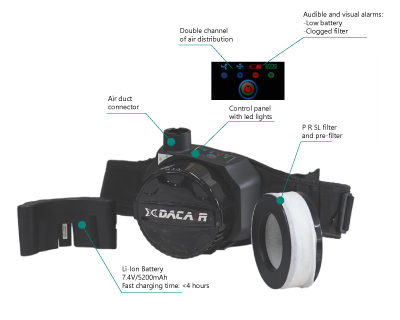 Composed of a compact and lightweight motor fan (920 g) with a replaceable P R SL filter for particles and aerosols and a pre-filter, which is powered by a replaceable and rechargeable Li-Ion battery, the DACAiR unit allows a selection between two air flows: 180 or 220 l / m, assuring always constant flow under electronic control.
With great autonomy of use (up to more than 8 hours), as well as visual and acoustic alarm in case of discharged battery or saturated filter for greater safety, the DACAiR equipment is managed with an easy and intuitive monitored control panel, for greater efficiency. The DACAiR blower unit filters and directs the air, generating a positive overpressure inside the head unit, to supply breathable quality air and prevent the entry of toxic fumes into the bucco-nasal area, producing also a pleasant sensation of freshness.
It should also be noted that, thanks to their reduced dimensions, the DACAiR equipment can be used with total ease in limited spaces, with maximum wearing comfort.
Head unit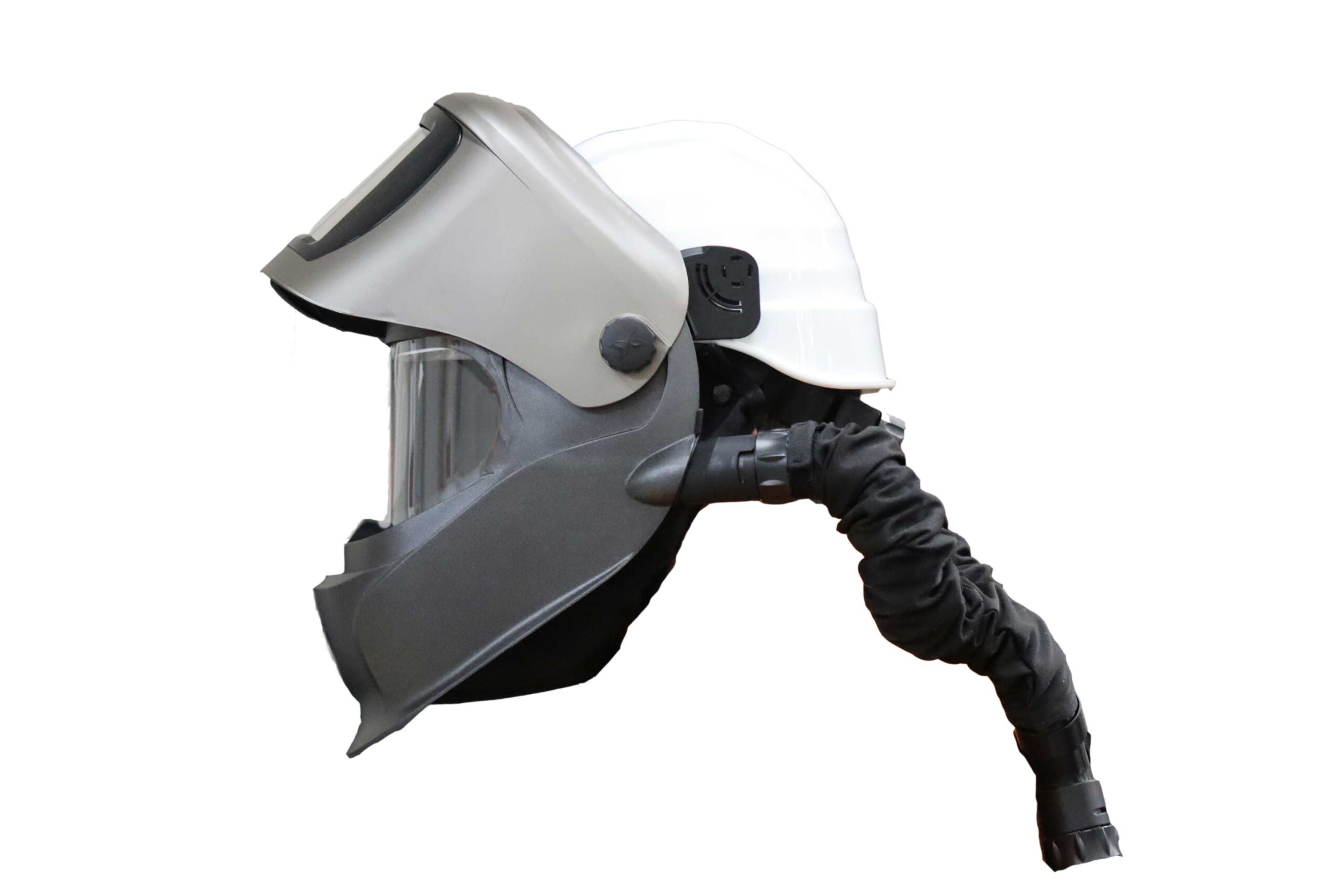 Equipped with a flip-up welding front to alternate grinding and welding tasks, the DC-3 Multifunction helmet, in addition to offering you great versatility of uses, will offer you maximum protection without sacrificing comfort. Its internal panoramic viewer for grinding tasks will allow you to work safely with a maximum field of vision.
In its safety helmet version, the DC-3 head unit is supplied with a pair of helmet adaptors that can easily be taken out of the helmet in order to allow the operator to use the safety helmet without the welding helmet when not in use.
The mechanical assistance of raising and lowering the welding window with shock absorbers for one-hand operation make the DC-3 welding helmet a unique helmet in its class.
It is equipped with an adjustable face seal made out of flame retardant treated fabric as well as 2 side air ducts that bring the filtered air that comes from the DACAiR blower unit to the front of the mask in the mouth area.
Rockman hard hat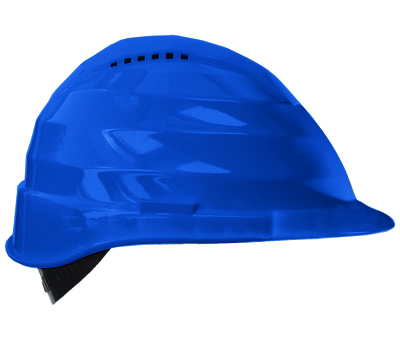 The Rockman construction helmet is characterized by its design with DeForma Tec technology: the design of the headgear anchorage is conceived to absorb the impact energy through deformation and thus prevent it from being transmitted to the operator's neck, thus considerably reducing the risk of injury.
Made of PE, it maintains a reduced weight of only 315 gr. Equipped with a textile headgear and ratchet closure, the fit to the head is comfortable and firm.
With a ratchet backwheel headgear, the Rockman safety helmet will fit tightly and comfortably on the wearer´s head.
Features DACAiR PAPR:
Replaceable filter P R SL
The complete unit (filter included) weights only 920 g
Double air Flow: 180 or 220 litres / min
Battery: Li-ion 7.4 V / 5200 mAh
Running time with fully charged battery: At 180 l / min > 8 hours, at 220 l / min > 5 hours.
*Running time can be be reduced if the filters are clogged ori f the battery is not fully charged.
Charging cycles: >350
Fast charging time:  < 4 hours
Assigned Protection Factor: 500 (TH3)
Noise level: Max. 69 to 74 dB(A) depending on head unit
Certificate: CE EN 12941 class TH3
Warranty: Battery: 6 months / PAPR: 1 year
Features DC-3 DACAiR welding helmet
With flip-up welding front to alternate grinding and welding tasks
Large viewing area: interior panoramic XXL viewer 227 x 110 mm
Optical class 1 polycarbonate visor and filter cover
Easy replacement of the inner visor and the filter covers
Welding mask with curved front for better dissipation of fumes and a better angle of vision without reflections
The Y-shaped air hose with double air inlet and 6 distribution channels provides the user with high breathing comfort, distributing the air evenly in the mouth and nose area without annoying drafts
Air vents towards the visor to avoid fogging
Extra-flexible hose for greater freedom of movement, with protective flame retardant treated fabric cover
Features Rockman hard hat
DeForma Tec Technology: The fixations points of the headgear are designed to absorb impact energy by deformation from impact rather than transmitting it to the head
Reduces the energy transmission allowed by EN397 by 30% and up to 50%
Rear extension for a better protection of the neck
With rain draining rim
Good side impact stability
Short peak for better upward visibility
The finish on the crown of the helmet is rough to avoid marks produced when the helmet is left upside down on an abrasive surface
Headgear with ratchet wheel for a safe and comfortatble fit
Helmet material: PE
Certification: CE EN397, -30ºC
The DACAiR are certified according to current legislation 425/2016 according to EN 12941: 1998 + A1: 2003 + A2: 2008 in class TH3.
Compatible ADF features:
SL513G
Large field of view
Clear shade DIN 3.5 with grey true color LCD
Multi-function LCD display with settings indications
Double range of dark shades DIN 5-8 or 9-13 with internal digital selector
Internal digital regulation of dark to clear time from 0,1 to 1 sec.
Internal digital sensitivity regulation
Grinding function (external) with one-click push button
Solar power + 1 replaceable CR2450 battery
4 arc-sensors
Optical quality 1/1/1/2
Viewing area 98 x 62 mm
Switching speed from clear to dark: 0.1 ms
2 years warranty
MULTIXE (ADF718G PRO)
Large viewing area 100 x 53 mm
4 independent arc sensors
Clear shade with grey ultra-clear True Color LCD technology
Variable dark shades with external potentiometer and internal range selector : DIN 5 – 8 and DIN 9 – 13
Switching speed: 0.04 ms
Adjustable dark to clear time with internal potentiometer from 0.1 to 1 second
Internal adjustment of arc sensitivity
Optical quality CE EN379 1/1/1/2
With replaceable CR2032 battery combined with solar cells for a longer life time
2 years warranty
Suitable for MIG-MAG, TIG, electrode, pulsed arc, plasma, micro-plasma, gas welding, cutting and grinding
MULTI-XI (ADF718i PRO):
Clear shade with grey ultra-clear True Color LCD technology
Dark shades: DIN 5 – DIN 8 / DIN 9 – DIN 13 with internal selector and regulator
Adjustable dark to clear time with internal potentiometer from 0.1 to 1 second
Internal adjustment of arc sensitivity
Grinding mode with internal selector
Large viewing area 100 x 53 mm
4 independent arc sensors
Switching speed: 0.04 ms
Optical quality CE EN379 1/1/1/2
With replaceable CR2032 battery combined with solar cells for a longer life time
2 years warranty
Suitable for MIG-MAG, TIG, electrode, pulsed arc, plasma, micro-plasma, gas welding, cutting and grinding
EL PASO V913I (ADF 600I):
Clear shade with grey ultra-clear True Color LCD technology
Variable dark shade from 9 to 13 with internal command
Delay regulaton from 0,1 to 1 sec. and sensitivity regulation with inner commands
Optical quality CE EN379 1/1/1/2
Solar + non replaceable lithium battery powered
2 arc sensors
Switching time: 0,1 ms.
Viewing area 41 x 100 mm.
2 years warranty
EL PASO V913E (ADF600G):
Clear shade with grey ultra-clear True Color LCD technology
Variable dark shade from 9 to 13 with outer command
Delay regulaton from 0,1 to 1 sec. and sensitivity regulation with inner commands
Grinding mode with integrated switch to the dark shade regulation command
Optical quality CE EN379 1/1/1/2
Solar + non replaceable lithium battery powered
2 arc sensors
Switching time: 0,1 ms.
Viewing area 41 x 100 mm.
2 years warranty
EL PASO V913E PLUS (ADF610G PRO):
Clear shade ultra clear with gray True Color LCD
Variable dark shade from 9 to 13 with outer command
Delay regulaton from 0,1 to 1 sec. and sensitivity regulation with inner commands
Grinding mode with integrated switch to the dark shade regulation command
Optical quality CE EN379 1/1/1/2
Solar + 1 replaceable CR2032 lithium battery powered
2 arc sensors
Switching time: 0,1 ms.
Viewing area 45 x 100 mm.
2 years warranty
EL PASO F11 (ADF200F):
Clear shade DIN 2,5 with gray True Color LCD
Fixed dark shade 11
With 2 internal switches for High or Low Sensitivity regulation and Long or Short Delay time
Optical quality CE EN379 1/1/1/2
Solar + non replaceable lithium battery powered
2 arc sensors
Switching time: 0,3 ms.
Viewing area: 91 x 39 mm.
2 years warranty