The set includes:
Designed in Spain
PAPR DACAiR with P R SL filter and prefilter
DC-2 DACAiR welding helmet with face seal and air duct
Comfort belt
Battery
Charger
Hose with protective cover made out of flame retardant treated fabric
Auto Darkening Filter (ADF)
Ventilation unit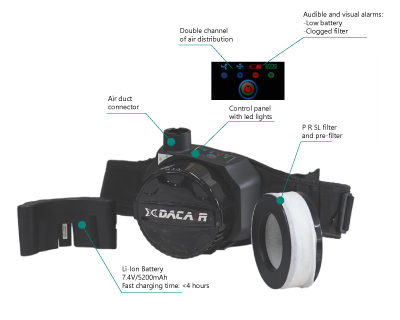 Composed of a compact and lightweight motor fan (920 g) with a replaceable P R SL filter for particles and aerosols and a prefilter, which is powered by a replaceable and rechargeable Li-Ion battery, the DACAiR unit allows a selection between two air flows: 180 or 220 l / m, always constant under electronic control.
With great autonomy of use (up to more than 8 hours), as well as visual and acoustic alarm in case of discharged battery or saturated filter for greater safety, the DACAiR equipment is managed with an easy and intuitive monitored control panel, for greater efficiency.
Its blower unit filters and directs the air, generating a positive overpressure inside the head unit, to supply breathable quality air and prevent the entry of toxic fumes into the bucco-nasal area, also producing a pleasant sensation of freshness.
It should also be noted that, thanks to their reduced dimensions, the DACAiR equipment can be used with total ease in limited spaces, with maximum wearing comfort thanks to its belt with an easily adjustable padded back.
Head unit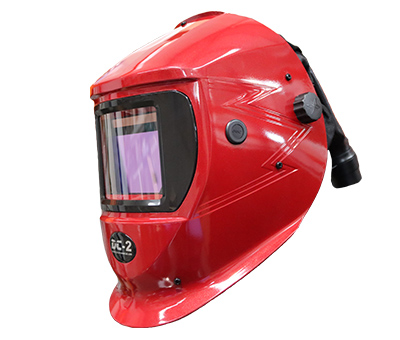 The DC-2 welding helmet is designed for use in adverse conditions with high welding amperage, high temperatures or risk of impacts in grinding work.
The outer frame compresses the filter cover with the mask, giving greater sealing against the entry of fumes and projections. This ensures a clear view and prevents the electronic filter from being damaged. The larger volume of space between the filter cover and the filter also provides better thermal insulation to both the electronic filter and the welder's face.
Thanks to the great coverage of the mask, the user will enjoy total protection of the face, neck and ears throughout the working day.
Available in different colors (red, blue, bronze and green), the DACAiR DC-2 head unit is equipped with an adjustable face seal made out of flame retardant treated fabric as well as an air duct that carries the clean air that comes from the DACAiR fan to the front of the mask. Thanks to the built-in deflector, the air provides a pleasant sensation of freshness without disturbing your vision.
Equipped with a headgear with M.D.D. (Mass Distribution Device), improves weight distribution to achieve greater comfort by reducing the tension on the user's neck.
Features of the DACAiR PAPR:
Replaceable filter P R SL
The complete unit (filter included) weights only 920 g
Double air Flow: 180 or 220 litres / min
Battery: Li-ion 7.4 V / 5200 mAh
Running time with fully charged battery: At 180 l / min > 8 hours, at 220 l / min > 5 hours.
*Running time can be be reduced if the filters are clogged ori f the battery is not fully charged.
Charging cycles: >350
Fast charging time:  < 4 hours
Assigned Protection Factor: 500 (TH3) – 50 (TH2)
Noise level: Max. 69 to 74 dB(A) depending on head unit
Certificate: CE EN 12941 class TH2 or TH3 (depending on head unit).
Warranty: Battery: 6 months / PAPR: 1 year
Features of the DC-2 DACAiR welding helmet:
The DC-2 DACAiR welding mask guarantees exceptional comfort, throughout the working day
Headgear with MDD: Mass Distribution Device, better weight distribution for greater comfort by reducing tension on the neck
Mask with "sandwich" type front window for a perfect hold of the filter cover against impacts and maximum sealing against the penetration of fumes or projections in the space between the filter cover and the electronic filter
Lightness and comfort due to its minimum weight (710 g, electronic filter, face seal and air duct included)
With curved front lens to eliminate annoying reflections and better dissipation of fumes
Excellent face protection thanks to its wraparound design that covers the neck and ears
DACAiR assemblies are certified in accordance with current european legislation 425/2016 according to EN 12941:1998 + A1:2003 + A2:2008 in class TH2 or TH3 depending on the head unit models.
Features of the compatible Auto Darkening filters:
SL513G
Large field of view
Clear shade DIN 3.5 with grey true color LCD
Multi-function LCD display with settings indications
Double range of dark shades DIN 5-8 or 9-13 with internal digital selector
Internal digital regulation of dark to clear time from 0,1 to 1 sec.
Internal digital sensitivity regulation
Grinding function (external) with one-click push button
Solar power + 1 replaceable CR2450 battery
4 arc-sensors
Optical quality 1/1/1/2
Viewing area 98 x 62 mm
Switching speed from clear to dark: 0.1 ms
2 years warranty
MULTIXE (ADF718G PRO)
Large viewing area 100 x 53 mm
4 independent arc sensors
Clear shade with grey ultra-clear True Color LCD technology
Variable dark shades with external potentiometer and internal range selector : DIN 5 – 8 and DIN 9 – 13
Switching speed: 0.04 ms
Adjustable dark to clear time with internal potentiometer from 0.1 to 1 second
Internal adjustment of arc sensitivity
Optical quality CE EN379 1/1/1/2
With replaceable CR2032 battery combined with solar cells for a longer life time
2 years warranty
Suitable for MIG-MAG, TIG, electrode, pulsed arc, plasma, micro-plasma, gas welding, cutting and grinding
MULTI-XI (ADF718i PRO):
Clear shade with grey ultra-clear True Color LCD technology
Dark shades: DIN 5 – DIN 8 / DIN 9 – DIN 13 with internal selector and regulator
Adjustable dark to clear time with internal potentiometer from 0.1 to 1 second
Internal adjustment of arc sensitivity
Grinding mode with internal selector
Large viewing area 100 x 53 mm
4 independent arc sensors
Switching speed: 0.04 ms
Optical quality CE EN379 1/1/1/2
With replaceable CR2032 battery combined with solar cells for a longer life time
2 years warranty
Suitable for MIG-MAG, TIG, electrode, pulsed arc, plasma, micro-plasma, gas welding, cutting and grinding
EL PASO V913I (ADF 600I):
Clear shade with grey ultra-clear True Color LCD technology
Variable dark shade from 9 to 13 with internal command
Delay regulaton from 0,1 to 1 sec. and sensitivity regulation with inner commands
Optical quality CE EN379 1/1/1/2
Solar + non replaceable lithium battery powered
2 arc sensors
Switching time: 0,1 ms.
Viewing area 41 x 100 mm.
2 years warranty
EL PASO V913E (ADF600G):
Clear shade with grey ultra-clear True Color LCD technology
Variable dark shade from 9 to 13 with outer command
Delay regulaton from 0,1 to 1 sec. and sensitivity regulation with inner commands
Grinding mode with integrated switch to the dark shade regulation command
Optical quality CE EN379 1/1/1/2
Solar + non replaceable lithium battery powered
2 arc sensors
Switching time: 0,1 ms.
Viewing area 41 x 100 mm.
2 years warranty
EL PASO V913E PLUS (ADF610G PRO):
Clear shade ultra clear with gray True Color LCD
Variable dark shade from 9 to 13 with outer command
Delay regulaton from 0,1 to 1 sec. and sensitivity regulation with inner commands
Grinding mode with integrated switch to the dark shade regulation command
Optical quality CE EN379 1/1/1/2
Solar + 1 replaceable CR2032 lithium battery powered
2 arc sensors
Switching time: 0,1 ms.
Viewing area 45 x 100 mm.
2 years warranty
EL PASO F11 (ADF200F):
Clear shade DIN 2,5 with gray True Color LCD
Fixed dark shade 11
With 2 internal switches for High or Low Sensitivity regulation and Long or Short Delay time
Optical quality CE EN379 1/1/1/2
Solar + non replaceable lithium battery powered
2 arc sensors
Switching time: 0,3 ms.
Viewing area: 91 x 39 mm.
2 years warranty